A 1939 Centreville paper reads, "Since Hallowe'en has grown up… greased trolley tracks, flat tires, and shattered street lamps, faint echoes from the good old days, are on the way out." Funny how the good old days always change, yet somehow stay the same. Mischief Night, Devil's Night, or Cabbage Night; they all relate to the same aim. That is to create as much havoc as possible after the sun trades places with the moon. Though these nights fall on the eve of Halloween, their separation from All Hallows' Eve is more recent than you'd think.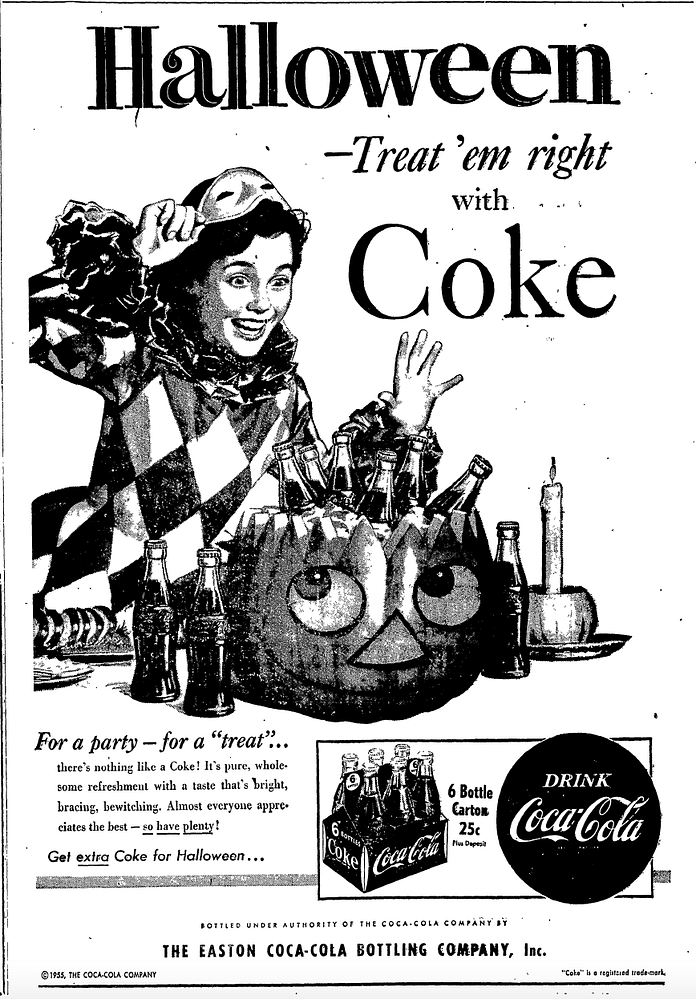 Halloween, as we know it, has only been around since the early 1930s, but it all started about 2,000 years ago in the Celtic lands of Europe. The Celts, who were also pagans, celebrated their new year on October 31 with the ancient religious festival of Samhain (pronounced SAH-win). Here they prepared for winter and harvested the crops that summer produced. Revelers believed that the barrier between the physical and spiritual worlds dissolved during Samhain, allowing ancestral spirits, fairies, and demons to breach and roam freely.
To avoid being snatched back to the underworld on the spirits' return, the pagans would masquerade as their would-be captors, disguising themselves as monsters, animals, and other evil entities. They also built bonfires throughout the festival to ward off these ethereal creatures.
Villagers left fires burning within their homes to die out while the festival ensued, symbolically marking the end of the year. When the harvest was complete, the group joined Druid priests to ignite a new fire, followed by crop, animal, and human sacrifices to thank the Celtic deities. After everyone was sufficiently sloshed, the villagers each carried an ember in a hollowed out turnip back to their homes to relight their abandoned hearth, symbolically marking the new year. This tradition marks the earliest incarnation of the Jack-o'-lantern.
Christianity was eventually born and by 43 A.D., the Roman Empire conquered almost all the Celtic territory. Over the next 400 years, Roman festivals merged with the Pagan's Samhain, producing Feralia, a late October festival to commemorate the dead. This amalgamation also produced a day to honor Pomona, the goddess of fruit and trees symbolized by the apple, possibly shedding light on the later custom of bobbing for apples.
The birth of Christianity led to the Catholic's attempt to convert and control the world. In the eighth century, Pope Gregory III moved the Christian holiday, All Saints' Day, from May 13 to November 1. Historians believe this was an attempt to replace Samhain, as it carried over some of the Pagan festival traditions. All Souls' Day was institutionalized on November 2 in 1,000 A.D. creating the three-day event known as Allhallowtide. All Saints' Day, also called All Hallows' Day and All Hallowmass, was the day before with All Hallows' Eve kicking things off on October 31. In time, the Celtic region began calling Samhain, All Hallows' Eve, which eventually turned into Hallowe'en, and finally Halloween.
These practices began making their way to the new world in the 1600s. Since the first settlements were Protestant and All Hallows' Eve was staked in Catholicism, Halloween was a scarce celebration in the New England area. It wasn't until the formation of Maryland, a Catholic colony, that the holiday slowly spread.
The European population among the colonies grew tremendously throughout the eighteenth century, bringing in worldly customs that blended with native Indian traditions, manifesting an unmistakably American version of Halloween. Our population surged again in the nineteenth century with the influx of Irish immigrants fleeing the Potato Famine and, alas, we have come full circle. The originators of Samhain were now a major ingredient in the melting pot that is America, popularizing the celebration of Halloween nationally and fortifying it as a mainstay holiday.
By the 1920s, the Great Depression was in full swing and Halloween had become an all out riot night of shameless violence, vandalism, and assaults. The youth, especially, were full of aggression and let it out on the traditional night of evil unleashing. Remember that 1939 newspaper story at the onset of this article, mentioning how "Hallowe'en has grown up?" That is all because of the early 1930s rehabilitation of the holiday, creating the trick-or-treat tradition as we know it.
America did not invent the door-to-door ritual, but we revived and polished it here, saving a centuries old holiday from being banished into history. Guising and souling, the ancestors of trick-or-treating, began in the Middle Ages. Children, often poor, would go door-to-door begging for food and money in exchange for prayers spoken towards the patron's dead relatives. The dressing up part has roots in the pagan's spiritual masquerading traditions at Samhain, but also dates to a more modern time. Guy Fawkes Night began in 1605, which celebrates Guy Fawkes' failed attempt to blow up King James I in the Gunpowder Plot. British children go door-to-door begging for pennies while wearing Guy Fawkes masks. Though the holiday is on November 5, the two nights' festivities merged over the years.
Back to 1930s America. To quell the fires that burned within American youth on Halloween, the nationwide adoption of organized, community-based trick-or-treating began. Rotary Clubs and other organizations staged Halloween events, giving celebrators healthier options. A 1937 Centreville newspaper boasts a "Hallowe'en Frolic and Supper at the Local Armory," stating "much interest is being shown by the young people of the community who are planning to spend the evening… masquerading." Society was repurposing the night with limits on what they would use it for. Towns evolved with successful areas deemed "no damage" cities. It was becoming family friendly and considerably safer to roam the streets at night.
It appears as though some missed the good old days of a more hellacious Halloween night. Record Observer writer Ted Shea says in 1939, "Halloween is changing rapidly…" and when the older generations compare their Halloween experiences of "wild, unrestricted fun with the carefully steered amusements… to lure modern youth into tepid waters," they feel, "the fun may be equal but the old tang is gone." Nostalgically adding, "the excitement of uncertainty is missing. We believe that the memories of Hallowe'en in the Bad Old Days will linger as fragrantly, and perhaps more so, than the carefully guided pleasantries of today." I gather that lthough Halloween may be safer, the mischief of evil spirits roaming for one night really gives Halloween its sense of fear. If you remove the fear of bad things happening, it no longer has the same effect.
Shea offers a firsthand account of the night's pursuits recalling "when he helped to drag some carriage or wagon a half mile or so and then deposit it on a lawn, back yard or doorstep." He remembers "the battles with a rival crowd of boys, each armed with cabbage and each endeavoring to sneak up on the other and inflict pain." He concludes, "we've run many a mile to escape irate householders… We've lifted gates, porch furniture, everything not nailed down, used ticktacks, stuck pins in doorbells, soaped windows, let awnings down in the business section, pushed a shed over a cliff, done a fair share of the hell-raising that was once the Hallowe'en spirit." Though Shea admits to holding these memories in a special place, he also admits these were the "Bad Old Days." A more serious memory appearing in a later newspaper speaks of moving a stop sign in Queenstown and causing an accident where two people were hospitalized.
The trend to deescalate Halloween's devilish ways took a minor hit in the 1940s with the outbreak of World War II and sugar rationing. Availability of treats dwindled for kiddies on the haunted holiday, but luckily, that was short-lived and did not seem to affect other Halloween traditions. In fact, local's support of the American military was alive in 1943 when the PTA held their annual Halloween Bazaar at the Centreville High School Auditorium. The party featured a costume contest and one category was "Best Armed Force Costume."
Soon after World War II ended, the postwar baby boom began. Children were everywhere and fortunately for them, the resurrection of Halloween and trick-or-treating was back in full swing. Sugar supplies returned and candy companies took advantage of the fruitful ritual with nationwide campaigns targeted at children. Parades became an annual Halloween tradition, possibly carrying over from victory parades welcoming troops home from battle. Halloween 1948 had plenty of parties to choose from:
Centreville Elementary School Halloween PTA Bazaar and County Market with Grand Costume Parade.
Stevensville High School Halloween Party with Costume Parade and "Chamber of Horrors" conducted by the Boy Scouts, closing the night out with a midnight Broom Stick & Boob Stick Dance.
Ingleside School Halloween Social.
Ingleside-Barclay MYF Halloween Party at Barclay Community Hall.
Queenstown Community Halloween Party.
Dominion Community Halloween Party.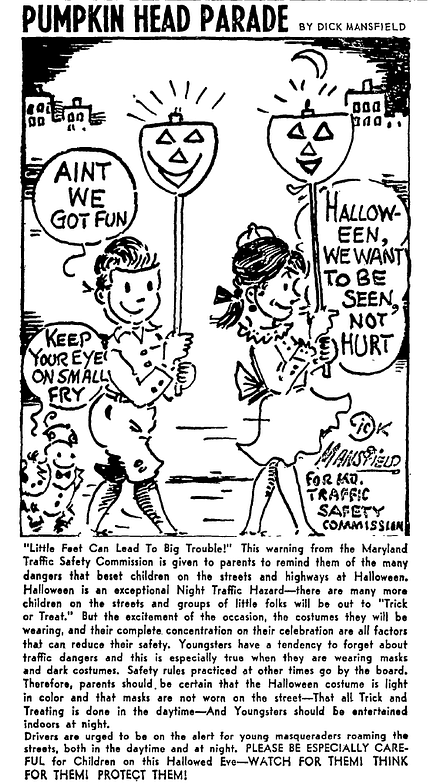 By 1959, the transition to a family friendly night of spookiness was thought to have taken hold. A newspaper reporting on Kent Island's Dominion stated, "Halloween passed very quietly in our community with no reports of destruction. The children enjoyed going from house-to-house with trick or treat. Some of them had all they could carry." The Kent Island Elementary School hosted their first annual Halloween Bazaar and Costume Parade. Sudlersville went all original, throwing the first ever Halloween street dance and costume parade on Main Street in 1962.
With 200 attending the 1963 Sudlersville Halloween Parade, Kent Island would not be outdone by another town or local vandals. The local Lions Club hosted their first annual Halloween Costume Parade in 1963 at the Kent Island Shopping Center. They returned in 1964 with a pre-parade White Elephant auction and turkey shoot at the old Chester Station property, where present day Piney Creek Road and Chester Station Lane intersect. This year was a major success, giving away a whopping $10 Grand Prize for best costume to Mrs. Linda Britt and Mrs. Janeen Jewel as a team. Other prize winners included Lorie Glynn, Tracy Schulz, Laura and Lynn Pease, Jay Grollman, Butch Nash, Darrell Horney, Bill Thomas, and Mrs. Reba Horney. With this momentum, the club promised the affair would be "bigger and better each year."
1965 was a big year for Centreville and Kent Island Halloween parades. Centreville threw their first costume contest street parade with an exceptional several thousand in attendance. "So many youngsters showed up to the march that the free bags of candy given out by businessmen ran out before the parade was over." The Kent Island Lions held up to their promise with a four round costume contest parade starting with preschoolers and ending with adults, each division receiving two prizes. The newly established Bay Times praised the event, calling it, "One of the better Halloween programs in the Kent Island area…" with the festivities and parade being a "proven hit with young and old alike…"

1966 was another exceptional year bringing out the creativity in homemade costumes. Elementary student, Bill Thompson, won the funniest award for his "all electric robot" costume constructed and wired by his father, Jack Thompson. Bill completed a circuit in each finger when he touched it to the power source in his thumb, sounding an alarm and setting off lights in his head and torso.
As years passed, Centreville and Kent Island vied for best Halloween Costume Parade with an aim to keep the vandalism to a minimum. The events continued to grow, with several hundred attending the Kent Island masquerade parade in 1966 and over 500 in 1969. In 1972, the Queen Anne's County Recreation Department joined in starting their own costume parade at the Kent Island Middle School. By the 10th anniversary of the Lions Club Halloween event, locals knew it was a party more than just a parade.
It seems no matter what, though, all good things come to an end. Maybe it has something to do with the ancient Samhain's magical pull on youth to release their inner devilry in the faces of conformity. 1975 saw a crucial drop in attendance. Only about 200 attended this year's Halloween party. That is far off from the 500 plus of years past and another major change was coming.
In 1986, after 23 years of celebration at the Kent Island Shopping Center, the Lions Halloween parade moved to the newly built Kent Towne Market in Chester. It's hard to tell for sure if this move ended the event because there is no definitive writing on the matter, however it all but disappeared from newspapers after 1986.
Though it is sad to see a decades old Halloween event fade away, what stepped into its place was something Kent Island had never seen before. The 1990 headline reads, "Ghouls await daring souls at haunted house."
Appropriately named the Kent Island Haunted House, this first ever Halloween haunted attraction was on Shamrock Road in Chester, where the Promenade at Red Apple Town Center now exists. The white brick building in the middle of a field was once a restaurant, nightclub, and residence. However, it had now been transformed into a "spine-shuddering" complex by the Kent Island Jaycees. They worked night and day in this long-standing structure for two months to prepare for the grand premiere showing. The 20 minute guided tour comprised 21 rooms of terror with darkened maze tunnels, the Chamber of Horrors, the Jack-in-the-Box playroom, and an indoor cemetery and swamp.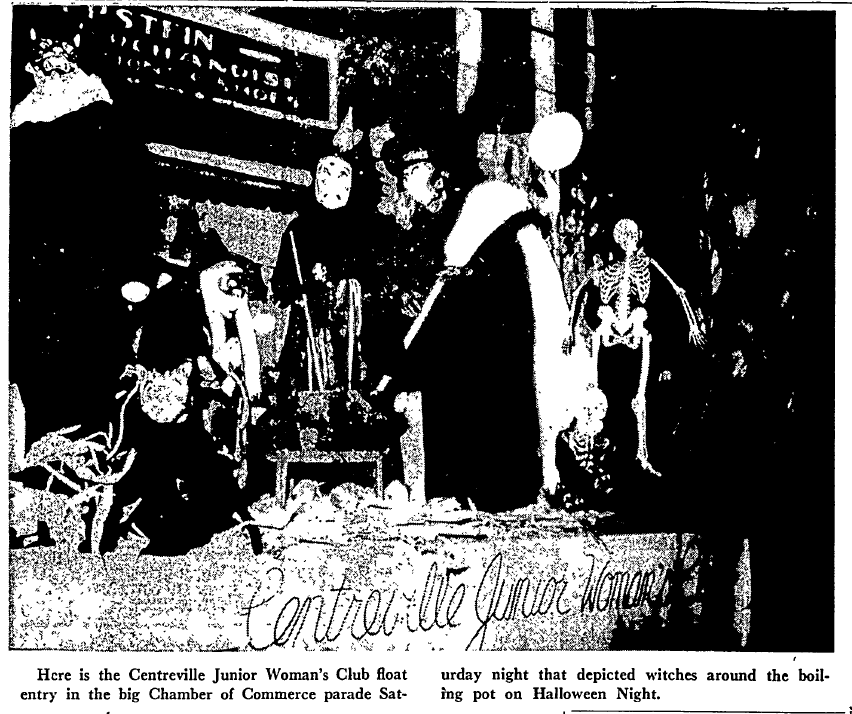 They did not choose this old house for lack of options. The Jaycees specifically selected it for its "eerie construction" incorporating hidden compartments and built-in bookcases. The old bones were also rumored to be haunted by "two old beautiful women ghosts who can be heard creeping down the stairs and then vanishing into the darkness." I recall exploring the building with my good friend, Joe Q. We were young and tales of devil worshipers holding seances in the rooms ran rampant in the kid community. At a cost of just $3 per person, this was an easy addition to the list of Halloween plans.
This far more official haunted house was an evolution of sorts. The Jaycees hosted their first haunted house at a "secret location" in 1980, but the more formal incarnation of the 1990 haunt began at Camp Wright back in 1987. They shuttled brave souls from Mowbray Park down the long dirt driveway of Camp Wright, where they met a host of Halloween horrors. They seemed to have found the right chemistry though, as the 1990 attraction drew about 800-1,000. The Kent Island Haunted House continued for two more years, but then evolution took hold again.
In 1993, the Jaycees teamed up with WCEI, the Modern Woodmen of America, and the County Parks & Rec to introduce the first ever Dark Hollows Haunted Trail. The search for Ana on the dark trail at Terrapin Nature Area had begun.