"Two escapees from the Old Point Prison Camp on Kent Island were collared early Sunday morning in a cornfield …"
This headline wasn't uncommon in the local newspapers in the mid twentieth century thanks to the prison camp located on Kent Island!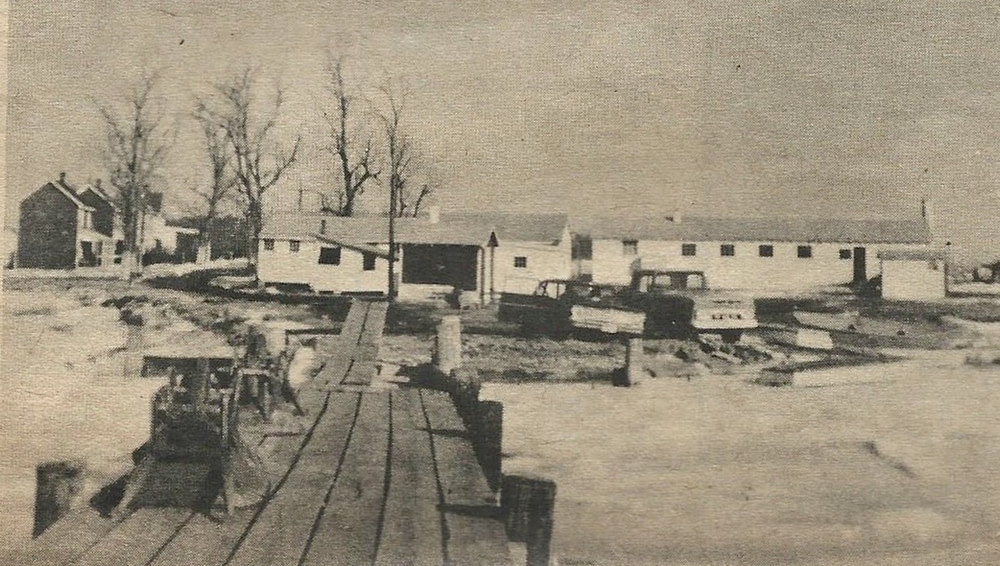 Old Point Prison/Correctional Camp was a minimum security institution established in August 1938 and located on the west side of Cox Neck Road just prior to the present day community of Southwind. It was partially surrounded by Cox Creek. The road to where the camp was located is actually still named Old Point Road. It was almost completely unsecured having no fences or bars. Only a prison staff of 16 officers led by a camp supervisor were there to keep order. Prisoners living there were selected from the penitentiary at Baltimore and the House of Correction for their good behavior. However, given the living conditions, that was a less than great reward.
The prison camp lacked the conveniences of the two more restricted institutions from which the prisoners were selected. Conditions were unsanitary at best in the summer and unbearable in the winter. There was one onsite toilet for the camp's 92 inmates. Two barracks heated by old fashioned, wood burning, pot bellied stoves housed the prisoners. Two stoves were in the larger barracks holding 64 men and one stove was in the smaller barracks holding the remaining 28. One interesting note is that the smaller barracks was the only state owned building that had been brought in when the previous building burned down. Fires in the camp buildings were more common than one might think. I'm not sure if this was due to the conditions of the camp or possible arson. The other buildings were existing structures that were barely maintained.
A good distance from the barracks was the shower room: a 40'x12' building divided by a partition where only one side provided heat via a small coal stove about two feet tall. The mess hall, for both prisoners and camp staff, was a former cannery (Mantik Canning Company) and oyster house (W.A. Palmer Oyster House). Cooking took place on a large, grimy, second hand wood stove. The camp had two other main buildings that were reused tiny old frame oysterman houses. One served as the camp's office and storeroom while the other held the camp staff.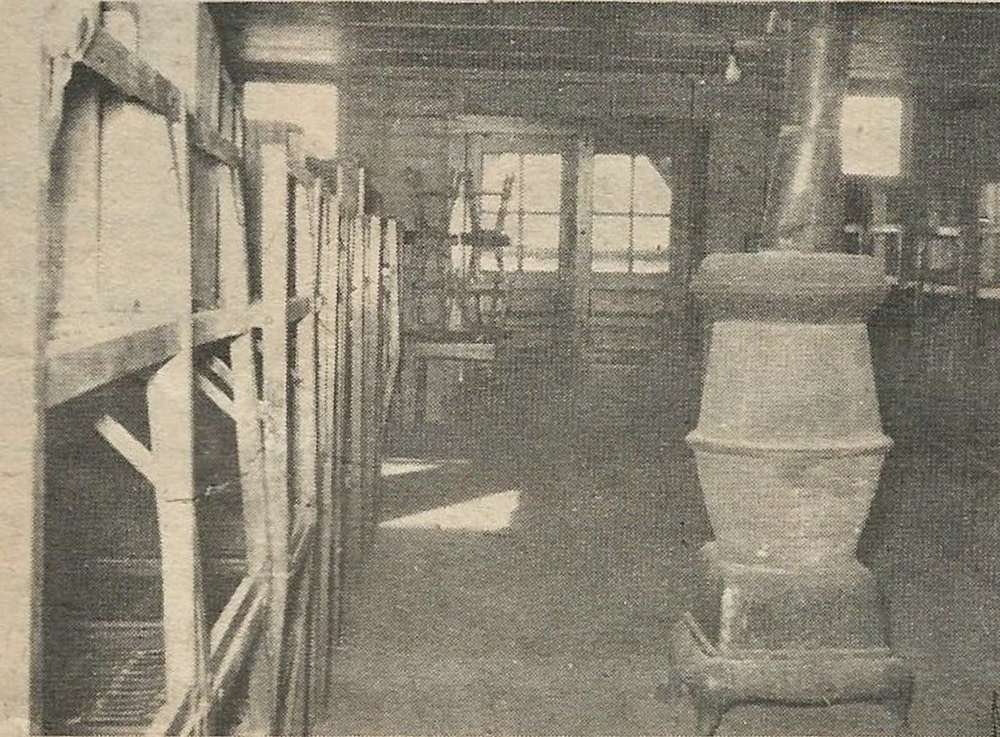 In its infancy, Old Point pulled double duty and was used to house German prisoners during World War II. It then began circulating inmates as their sentences came to an end. The inmates would work as farm hands aiding local farmers with their crops and help with the State Road Department in the off season. Most recognize prisons as maybe not the safest places to live and Old Point was no different. The camp had its fair share of fights and other misconducts. One such incident was fatal.
On March 4, 1944, inmate Jeremiah Thomas struck Joseph Watkins on the head with a two foot iron bar. Watkins was taken to Easton Hospital where he died five days later. Thomas was found not guilty on the grounds of self defense. He claimed Watkins charged him with a knife or razor blade while in the barracks. This is the only death I came across at Old Point, but other infighting took place quite often.
Given its failing conditions, many attempts were made to move the prison camp to a better suited site. The sewerage was a major problem and the grounds were cut in half by a public road. In 1960, the Superintendent of Prisons, James W. Curran, elected to move Old Point Prison Camp to an 80 acre tract just off the county road between Starkey's Corner and the Price-Church Hill Road. However, It was met with strong opposition from the local residents and 178 people signed a petition against it. Curran promised that only prisoners within the last several months of their sentence would be sent to the new site. He also admitted that 65% would be Negro and many would be repeat offenders which apparently was a major concern back then.
Another failed relocation attempt occurred when the prison camp at Sandy Point was to be expanded upon in order to abandon the overcrowded Old Point Prison Camp and move the program there. However that fell through when the Sandy Point site was sold to the state of Maryland by a private individual at a "token" price with the understanding that the land would only be used as a park. This is where present day Sandy Point State Park came from.
Old Point Prison/Correctional Camp was eventually successfully moved to a new location. In January of 1964, following 25 years of service, The Maryland Correctional Camp closed it doors on Kent Island and re-opened at a location on Flat Iron Road, south of Church Hill. Shortly after in 1965, Clifford Hane of Stevensville, representing a group of watermen, requested to the County Commissioners that a public pier be built where the Old Point Prison Camp was. A survey showed that Queen Anne's County owned a right of way leading to the water from the road. This request was eventually granted and the pier still exists today. Most of the camp buildings are long gone giving way to a newer community, but at least one of the old oystermen houses still stands dating back to 1896.
Author's Note: Much of the land where the prison camp resided on was owned by the Coursey family at one time. My grandfather, John Coursey, was part owner of the land in the 1970s. He, and many other family members, were watermen. I've learned a lot about Kent Island from them and one very cool part of that knowledge is place names. The prison camp area was known, and still is by some locals, as "Old Point" and/or "Jones Hole." The reason there were oyster houses and a requested pier in that area is due to "Jones Hole." There is a deep area of water right off shore that never freezes. This hole in the ice was perfect for oystermen, allowing them to catch their fill. I'm not positive who Jones is, but this is where the name "Jones Hole" comes from.
I'd like to take a moment to revisit my earlier statement regarding the lack of security at the prison camp. I've come to the conclusion that no one would ever accuse Old Point as being a secure prison camp. In my research, I came across numerous prisoner escapes. None of them lasted very long, but I found it amusing how easy it was to run (if not stay) away! I'll just list a few below …
1951 – Charles Jackson, 50, escaped and was eventually caught and returned. He received an additional six months to his original sentence for his escape.
7/17/1955 – Charles E. Adkins, 28, escaped and was eventually caught and returned. He was originally sentenced to three years for robbing the Circle Restaurant and received an additional six months for his escape.
1959 – Herman Hall, 28, of Baltimore escaped and was picked up 16 hours later on Route 50 near Grasonville.
11/25/1959 – Seven men … yes that is SEVEN men escaped and were located and returned within 12 hours.
6/12/1960 – Caesar Chambers, 24, and Warren Watkins, 23, of Baltimore, as well as Arthur Burell of Cherry Hill escaped. They made it about six miles to former County Commisioner, Claude Lowery's farm in Chester and stole his truck. Chambers was apprehended a few days later by Delaware State Police near Middletown, DE. He was investigated by the FBI for interstate operation of a stolen vehicle. The others were eventually captured as well.
1963 – Louis E. Fisher, 25, and Robert Weston Jr., 25, escaped and were collared about 11 hours later on an early Sunday morning in a cornfield near the Kent Island Shopping Center. The two men went missing Saturday night and were spotted Sunday morning by a KI resident who called the police.